Presentation folders, also called pocket folders are an exceptional way to present and organize a series of documents. They are especially helpful if you have multiple products and services to present to a prospect or a number of legal or financial documents for a client such as a real estate closing.
There are many options when it comes to pocket folder layouts, such as overall size, number and size of pockets, reinforced pockets, rounded corners, business card holders…and the list goes on. A booklet can also be stitched into the spine of a presentation folder, and the pockets can be used for supporting materials.
4 Benefits of Presentation folders
1. Multipurpose
One design for a presentation folder can be used for many types of documents, such as new employee kits, customer service policies, press kits and sales presentations.
2. Creative Flexibility
There are literally hundreds of configurations for presentation folders when it comes to size, pockets, custom slits and panels. They are a great way to present your brand and offerings in a unique style.
3. Versatility
Presentation folders go well beyond the main purpose of holding documents. They can be customized to hold a product sample, CD catalog or thumb drive of your video presentation.
4. Brand Building
Beyond your logo, a branded presentation folder can reflect the style, culture and values of your company through imagery and design. It's a great way to separate yourself from the competition when presenting a proposal.

Shapes and Styles of Wallace Graphics Presentation folders
Presentation folders are typically made of cover weight paper or cardstock, and there are die-cut. You can choose a standard die-cut or create your own to reinforce your message or add a touch of distinction to your design.
Most documents are rectangular in shape so it follows that most presentation folders are too. However, they may be portrait or landscape in the way they are presented and used.
Here are just a few of the standard configurations for our presentation folders: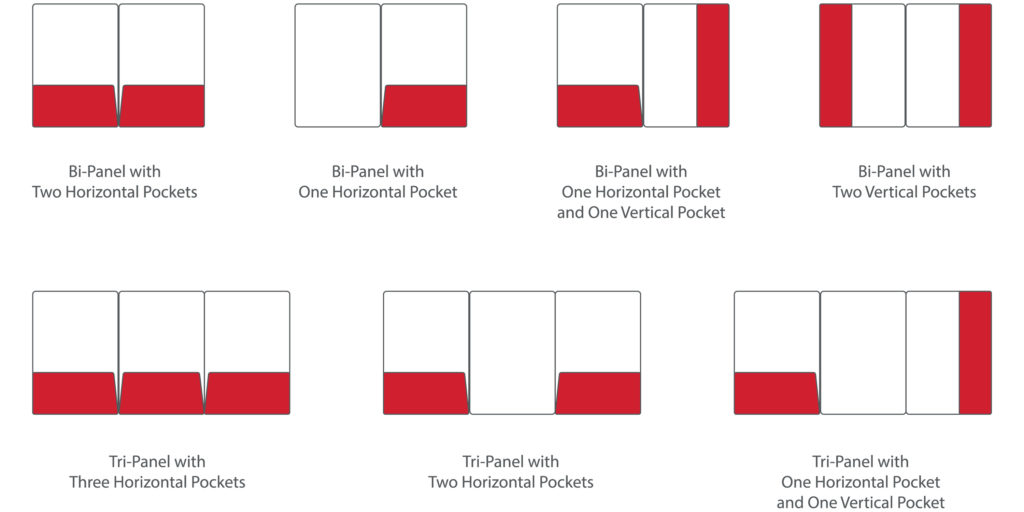 Not sure what you need? Call Wallace Graphics for more ideas of how you can use presentation folders when you market your business, your products, or your services.