Printed brochures are a popular marketing tool because they are compact, but they can carry a lot of content because many panels can be folded to a small size, but expanded by unfolding it. They can also be created as a self-mailer as a cost-effective solution for direct mail campaigns.
Brochures can also be designed to fit into standard sized #10 envelope so that they can be mailed along with other specific inserts to the potential customers you want to target.
Another advantage of brochures is that multiple versions can be combined or "ganged" together and printed simultaneously on a larger print sheet to reduce the overall cost.
Types of Folds for Your Brochure
Brochures have many folding options depending on the amount of content that will be included in your brochure. Here are just a few of the most popular folds.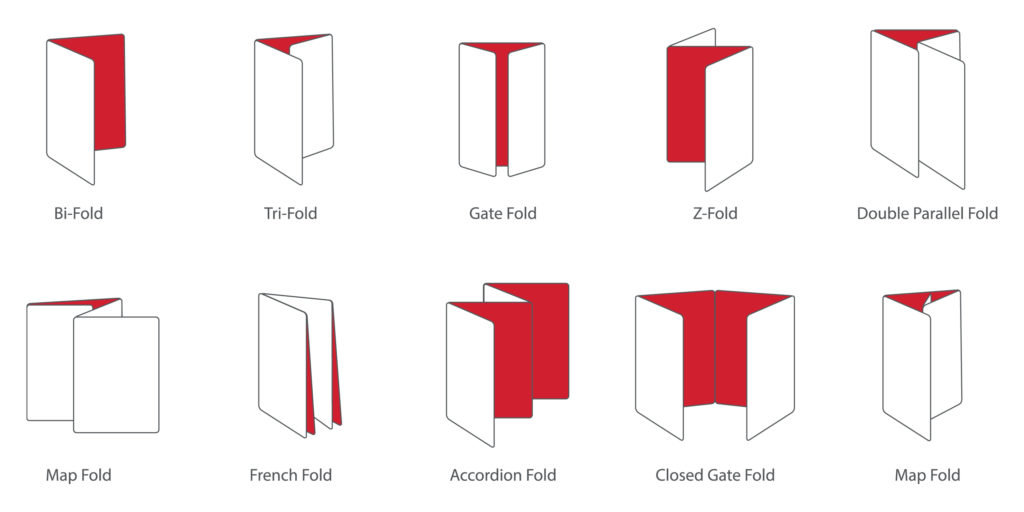 Paper Options for Your Brochure
There as many options when it comes to paper stock for your brochure. One of our sales staff would be happy to offer recommendations based on the usage of your brochure or to enhance the existing brochure design. Typically, brochures are printed on glossy or matte paper and on a similar stock or lighter than direct mail flyers which are usually printed on anything from 80 lb/200 gsm to 60 lb/170 gsm, depending on whether they are folded or not. Because brochures are almost always folded, they are commonly printed on 50lb/130 gsm to nothing heavier than 65lb/170 gsm, particularly when used for direct mail campaigns.
Brochure Content
Brochures are used for promotions of different sorts in every possible industry, from real estate to consumer products and everything in between. They are often used to advertise products, provide information, and to sell services. Additionally, companies, schools, universities, and organizations use them for various promotional and awareness campaigns.
Irrespective of what it is you want to market, your brochure should include sufficient information and visual content to intrigue, interest, and motivate potential customers to buy or learn more about your offering. But it shouldn't look cluttered.
Often the front of a brochure will contain one beautiful photograph or graphic image that grabs attention, together with a headline that introduces your core message. The back is where you include basic information including the company and/or brand name, any relevant registration data, and contact details. It's a good idea to include your logo here too.
Inside you should include photos or illustrations of your product or service visually reinforce your message. Don't be tempted to include too much text. Rather keep it short in easy-to-read blocks or in caption form. Also, a maximum of two font types, possibly one for headings and the other for body text. If you want more variation, use italics and bold rather than using another font. Make sure the font is large enough to be easily legible, more or less 12-point for body text and 10-point for captains, depending on the font. Fonts do vary and are not the same size visually.
When it comes to color, full color is the most eye catching. Although, in some instances one or two colors can have visual impact. Specialty finishes like dull and gloss coatings or additional spot colors can also enhance your brochure.
Just remember that when brochures are used for direct mail campaigns, unlike those distributed at point-of-sale or handed out at exhibitions and shows, you may have no idea whether the person at the receiving end has any interest in your product or service. That's why the cover should have a high level of interest to the recipient.
Wallace Graphics is Here to Help
Your Wallace Graphics direct mail team is ready to help you put together all of the elements you need for a great brochure. We will also ensure that the set-up for printing is economic and the size for posting fits the USPS requirements for the best postal rates possible.