With over 35 years of experience in large format and digital printing, Wallace Graphics has printed hundreds of thousands of brochures for companies across Georgia and will ensure your brochure is printed to the highest quality. If you are looking for a quality brochure printing service, we can help.
Types of Folds for Your Printed Brochure
Brochures have many folding options depending on the amount of content that will be included in your brochure. Here are just a few of the most popular folds.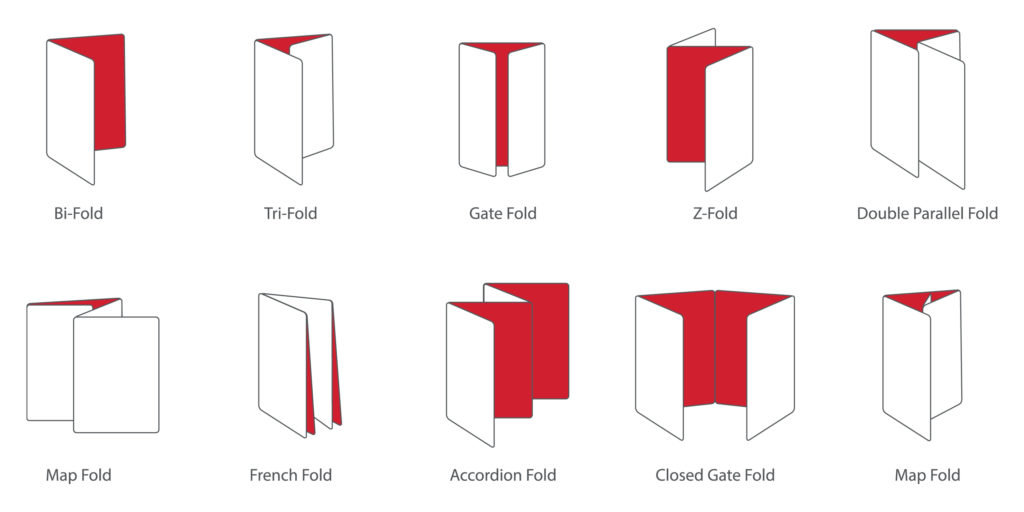 Benefits of Printed Brochures for Businesses
Printed brochures have been around for a long time and continue to cement their position as a valuable marketing tool thanks to their compact size and ability to deliver powerful messages that can trigger a specific call to action from your desired audience – whether it is creating more product awareness or bringing their attention to a promotion or offer. Some of the major benefits include:
Compact and can be designed to suit different sizes.
Cost-effective and can easily fit into envelopes for direct mail campaigns.
Multiple versions can be printed together on large sheets to bring costs down.
Easy to distribute and can be placed in several locations.
Enables you to start building trust with your audience.
Helps you convey plenty of information about your business and products.
Personalize Your Business Brochures Today
As potential clients read the content of your brochure, you have the ability to communicate with them on a personalized level. For this reason, you need to make sure your brochure and imagery convey your message in the best possible manner. While the same information may be available on your website or other social media channels, a brochure can have the personal touch you need to convert a prospect into a customer.
There are many brochure types – bi-fold, tri-fold, gate fold, double parallel fold, Z-fold, map fold and accordion fold – giving you plenty of choices. When it comes to paper, you have a myriad of options once again, so you can customize every aspect of your brochure to suit the needs of your business. Brochures are typically printed on lighter glossy or matte paper so that they can easily be folded no matter how you intend to use them.
As a professional brochure printing service, Wallace Graphics will work with you to create highly personalized, authoritative brochures that help you make a great impression on your audience.
Invest in Quality Printed Brochures to Convert Prospects into Customers
Brochures can easily be used to promote the products and services of companies in a variety of industries – whether you work in real estate, retail, food, law or entertainment. Schools, universities and non-profit organizations also use them to create awareness about their offerings, so as you can see they play a defining role in nearly every industry.
As brochures have the capability to translate into business for your company, it's important you don't end up skimping on your printing quality. Poor brochure prints will fail to capture your audience and won't deliver credibility. Quality printed brochures will help you establish a more trustworthy image that is sure to wow your customers.
At Wallace Graphics, our decades of experience has put us in the strongest position to weed out anything that is poor in quality, which means we use only the best printers that deliver to the highest standard in the industry. Give us a call today if you need a professional brochure printing service.